Rosemary
Wessel
Fine Art and Photography
• fine art
• photography
• digital media

• works in progress
• about rosemary

artist's statement

biography

recent exhibits

older exhibits

• guestbook
• store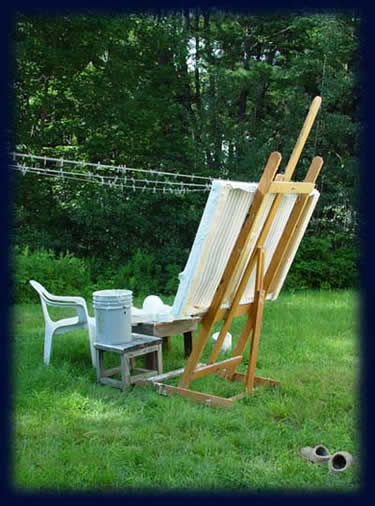 Rosemary Wessel is a mixed-media painter as well as professional graphic artist and photographer, located in Cummington, Massachusetts on the edge of the Berkshires.
She is often found painting outdoors in the spring, summer and fall. During the winter, she works in her small in-home studio and plans concepts for new series of work through extensive sketching.
Growing up in Brattleboro, Vermont, she began pursuing her multiple interests in fine art, photography, animation and graphic design for publishing during her high school years. Continuing interest led to a B.A. in Fine Art from Castleton State College and M.S. in Design from the University of Massachusetts as well as over 20 years in the graphic design and advertising industry.
In 1999 through 2002, Rosemary studied clinical hypnosis and Reiki, obtaining Reiki Master/ Teacher level and trained students in the practice of the Japanese tradition of Usui Reiki. She now continues work in tutoring and freelance graphic design and photography through her Three Salamanders Design Studio and continues to create and exhibit new work.